An encyclopedia and community for fans of the Shadow Falls series by C.C. Hunter.
Our database currently contains 103 articles and 105 images.


Overview · Searching · Editing · Help . Templates · Categories . Admins
The Shadow Falls series follows Kylie Galen as she discovers who and what she is. After being shipped off to Shadow Falls, a camp for troubled teens by her mother her world changes forever. Within hours of arriving it becomes clear that her fellow campers are different, but not in the ways she expected. At Shadow Falls Camp, vampires, werewolves, shape-shifters, witches, and fairies train side by side, learning how to use their powers, control their magic, and live in the normal world. Kylie has a hard time believing she is a supernatural, but the other campers insist she is one of them. Kylie is able to see ghosts, but that's not the kicker; her exact species is unreadable and unknown. Along the way, she befriends Della, a vampire, and Miranda, a witch. As if life isn't complicated enough, she feels torn between two boys, Derek and Lucas: Derek's a half fae who is determined to be her boyfriend, and Lucas is a smoking hot werewolf with whom Kylie shares a secret past. Derek and Lucas couldn't be more different, but they both have a powerful hold on her heart. Even though Kylie feels uncertain about everything, one thing is clear: Shadow Falls is exactly where she belongs.
The Shadow Falls: After Dark series follows Della Tsang as she ventures on her path of self-discovery. After the discovery of a long lost uncle, she makes it her quest to find him, a new family, after her old one left her behind when she turned... into a vampire. At Shadow Falls Camp, she has her best friends, Kylie and Miranda, and many other supernaturals to keep her grounded. There is even a shape-shifter determined to become her boyfriend, though she keeps him at arm's length, but she does not deny that Steve's kisses makes her weak to the knees. Things become seriously complicated when she encounters the handsome as he is irritating Chase Tallman, a powerful vampire. Not only does the boy piss her off with his attitude, but she also finds herself attracted to him.
---

Which is your favorite book in Shadow Falls Series?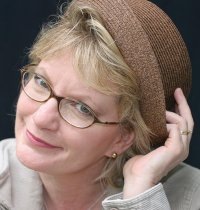 C.C. Hunter is the American author of the Shadow Falls young-adult novels. C.C. Hunter is a pen name. Under her real name, Christie Craig, she also write romantic suspense novels. Born in Alabama, she now lives in Texas.

Read More...
---